If you are looking for a job in the service sector, Compass Group Australia has hundreds of job opportunities for you. Here, we will show you several areas in which you can work.
Read more: Be a team member of JD Sports Fashion: over 50 job opportunities available
A market leader in providing contract catering and support services, the Compass Group operates in a wide range of sectors and marketplaces. As a food service provider, the company aims for world-class service for its clients.
The Compass Group PLC is present in over 50 countries, employing approximately 420,000 people. In Australia alone, the group operates at over 600 locations, employing more than 12,000 dedicated staff.
The Compass Group is responsible for providing local resources with access to a full range of global expertise within key market sectors. The company offers a vast range of employment opportunities in food and support services.
If you need the support to take your career a step further, their experienced teams and encouraging managers will offer you this opportunity. You can work with one of the best catering crews in the world.
Read more: Over 50 job opportunities available, at Nando's restaurants, apply today
Furthermore, Compass Group's division Restaurant Associates & Eurest Restaurant Associates is a leading global fine cuisine and hospitality company that delivers extraordinary dining experiences at culturally significant venues around the world.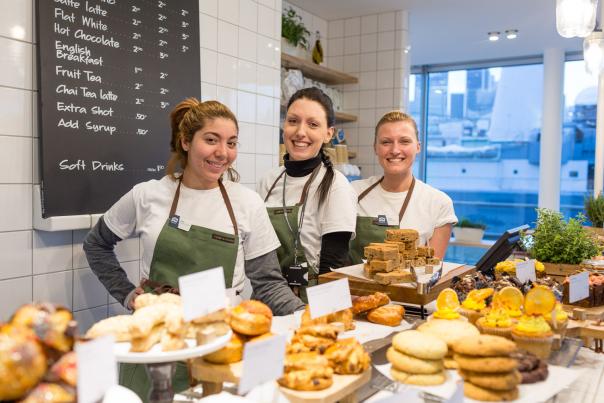 At the company, you can work in very different sectors, like:
ESS – Remote & Offshore
Chartwells – Education Compass Group's education brand
Medirest – Hospital and Senior Living Medirest
If you are interested in being a part of this renowned global catering team, there are over 250 opportunities you can apply for. Check out some of the latest offers:
Read more: Apply today to over 50 job opportunities available at Vodafone Australia
Hospitality Staff – Western Australia
The Compass Group is recruiting hospitality staff to travel to different locations around WA and get to work with an awesome team. The company provides all the training you need to do the job, your flights to & from Perth airport, your uniforms, accommodation while on site and all your meals.
Cleaners – Mascot NSW
The group also seeks expressions of interest for future roles as Cleaners for the Sydney Airport Lounge team. Are you ready for a change and wanting to move into the world of aviation? The Compass Group has now landed at Sydney Airport where they currently seek experienced and reliable Cleaners to join their team onsite at our Premier Airport Lounge.
Food & Beverage Attendant – Adelaide Region SA
The group aso looks for an experienced Casual Food & Beverage Attendant to join their friendly team at Pembroke, South Australia. In this role, you'll be responsible for providing a warm, friendly and welcoming style of service to all customers, general waiting duties of food and beverages, adhere to health, safety and security procedures.
Read more: Over 50 job opportunities available, at Nando's restaurants, apply today
In total, the Compass Group has 472 new job offers which you can apply to. To view all of these offers and guarantee your job, go to au.indeed.com and check out which opportunities fit you best. Good luck!
Souce: au.indeed.com | Images: compass-group.com/